It's the little things that make a big difference.
Here at Elevation Outdoors we are all about chasing the big ideas. We believe that by introducing a young person to the joys of playing outside it can help them find a lifelong passion that has the ability to shape their future life choices. We believe in equality for all youth in our community and that all persons should be able to access sports regardless of their personal circumstances. We believe in the power of recreation and play to assist in improving a person's overall mental and physical well-being.
Big lofty ideas are what organizations like ours are built upon, but the path to achieving any big idea is built on a number of small steps and achievements.
If you look at any one of the small steps we take to achieve our goals they may seem insignificant. Our first ever Learn to Shred program had 6 participants and that was the only program we ran that year. One could look at that and say, you only helped 6 kids in a whole year? What was the point of doing that? To us, that was the start of something great and this winter will see 40-45 participants come through our snowboard program and 130+ youth across all of our programs, all because we took that first step and ran a program one time with "only" 6 people.
Our summer camps are another great example of the small things adding up to great success. When we launched our Intro to Adventure summer camps in 2016, and we ran our first ever week of summer camps with only 2 campers. We had a lot of fun, learned a few things, and at the end of the week thanked them for coming out, and as with any new venture quickly moved on to trying to figure out the next week and getting more campers signed up. In 2019 our summer camps sold out early, had a growing wait list, saw 38 campers come through, and contributed a strong return helping us fund full scholarship seats in our other programs throughout the year.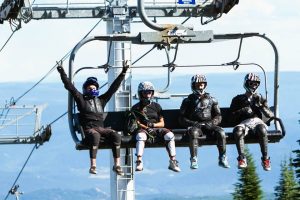 Fundraising is a similar idea. Many people wonder, how much impact can my support create? A great example of this can be seen in our Monthly Donors. The first person to ever commit to being a monthly donor contributes $15/month. When this happened, it was something to celebrate for Elevation Outdoors as we had never had anyone support us like this before, and it was the start of something new. As we continue to grow and more community members support us, our monthly giving has been able to grow to where we now see 10-times that initial amount coming in each month. For many organizations this is insignificant, but for us this represents the power of the small things adding up. Over 12 months this amount coming in each month allows us to create 1 full scholarship in each of our Learn to Shred, Get a Grip, Live to Ride, Take a Hike, and Wind in Your Sails programs.
That scholarship funding equates to 5 opportunities for youth in our community to get out and experience something new, to make new friends and engage with our mentors to help them build skills that will last a lifetime. 5 opportunities to build a person's self-confidence and improve their resiliency, 5 youth from our community who get a chance to see and experience first-hand some of the awesome things available right here in our own community. This all became possible because some amazing individuals in our community felt $10, $15, or $25/month was something they could contribute towards helping us achieve our big, lofty, ambitious goal of trying to change lives through outdoor recreation.
We challenge all of you to take a look around your lives and communities. What small thing can you do to help make it better? Can you spare 20 extra minutes to shovel an elderly neighbour's driveway? Can you spare 4 hours a week to volunteer for a cause that you are passionate about? Can you skip buying a nice coffee 2x a month and donate that $10 a month to a worthy cause to help make our community a better place?
Together, if we all do a little, we can accomplish a lot.
Mike Greer
Executive Director