As the season turns and the snow line starts to creep down the hills surrounding Kelowna we can't help but to start getting excited for what is coming!
Each January sees the return of our longest running program, our Learn to Shred snowboard program.  This is the program that started it all for Elevation Outdoors, so for us the start of a new Shred season is a bit like an anniversary and something to celebrate.  Back in the winter of 2008 a small crew of dedicated volunteers launched the program and saw a group of 8 young people come out to learn. Fast forward to the upcoming 2020 season and we are looking forward to helping over 40 young people get out and spend time riding and learning about themselves at Big White.
For many of our team snowboarding is more than just something we do.  It is a lifelong passion, the reason we live here, and a way to get outside to spend time with loved ones.  To be able to share this passion with the next generation of riders and introduce them to something that has a chance to become a lifelong pursuit is why we get out of bed early on those cold dark January mornings to fire up the bus to get everyone up to the mountain.  Snowboarding can teach a person so much about life, but can also be a great escape to get away from all that life can throw at you. Some days we ride to celebrate a milestone or to share time with friends, other days we ride to get away from the challenges that life presents.  No matter what the reason you show up to the mountain and strap into your snowboard, for those hours nothing else matters and all can be right in the world.
See a video about the program here.
Within our Learn to Shred program we strive to teach the participants not only how to snowboard, but to also help them develop the skills that are needed to succeed at life.  The hours spent riding the bus to and from the mountain provide an amazing opportunity for our volunteers to engage with the participants and share not only their passion for the sport, but also life lessons and wisdom they have gained throughout their lives.  Time spent together riding a chairlift is a chance to reflect on the last run, but also a chance to reflect on what is going on in life and chat with new friends and mentors. Each week sees us focus on a new theme to help draw parallels between life and sport.  Patience. Resilience. Self Confidence. Direction.  These are all concepts that are needed not only to succeed in snowboarding, but to succeed in life.  By showing a young person these concepts and how they relate to success in sport can help them understand how they can also help them in life.
2020 sees some exciting changes for Elevation and our Learn to Shred program.  For the first time we are now opening up spaces in the program to ensure that young people from all walks of life have an opportunity to come out and experience how awesome playing outside in the mountains can be.  For families that do not meet our criteria to access our scholarship opportunities can now take advantage of the limited number of fee for service seats that we have available. For families that may not have the time or the knowledge to introduce your children to the sport, you can sign your child up to spend 4 weeks riding with our program, and know that not only are you giving your child a chance to snowboard, but the money you pay for them to participate is also helping us create an opportunity for others in our community to snowboard as well.  That is about as win-win as it can get in our eyes.  For parents interested in a paid seat you can also feel comfortable in knowing our program is one of the best prices you will find to introduce your child to the sport.  At only $600 for a seat this is well below what it would cost for 8 days of riding, rentals, and instruction.  When you factor in the group learning, mentorship, and pizza you can't go wrong.
For more information or to register your child for our Learn to Shred program for this upcoming winter visit https://elevationoutdoors.ca/programs/snowboarding/.  For any family outside of our eligibility criteria that find the full price is a barrier get in touch with us to speak to our team about our partial scholarship seats that we have available to ensure that any young person that wants to learn has an opportunity.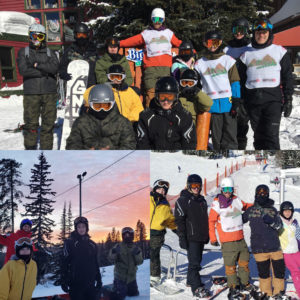 For all participants the program provides transportation to and from Big White, equipment rentals, lift tickets, lunch or supper each day, lessons from the amazing Big White instructors, mentorship from our volunteers, and access to any outwear that is needed.  Smiles and good times are also included.
If you are interested in being a part of the program in any way, as a participant, sponsor, volunteer, or bus driver please get in touch with us at [email protected] and we will get back to you with any information you are looking for.
We would like to take this opportunity to thank everyone that has helped make this program possible over the years, from our amazing sponsors, our dedicated volunteers, and the now hundreds of young people that have taken the leap of faith and joined the program.  We feel that by helping build a passion for the outdoors in the next generation we are doing our small part in helping make the world a better place.  
For now do your snow dances, and soon enough we will see you all out on the slopes!
Mike Greer
Executive Director