Improve your skills in our
Ladies Bike Clinic!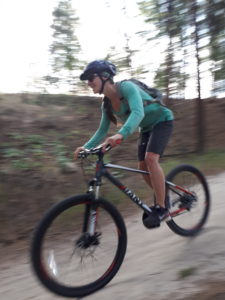 June 19, 2021 – 1 Day Clinic
If you have never ridden, or are a beginner/novice rider and would like to improve your skills this camp is for you! We will be running a 1 day clinic on June 19, 2021 that will consist of 2 groups: one for beginner riders with no previous experience on mountain bike trails and the other for more novice riders who are comfortable on trails and want to improve their skills and progress onto blue trails or start riding on different terrain. You will receive instruction from our PMBI certified instructor to get you rolling for the first time, or clean up your riding and get you feeling more confident on your bike!
The clinic will be run in the beautiful Myra-Bellevue Provincial Park in the Crawford trail network.  It will be a 5 hour clinic, with 2 hours of skill development in the morning, with a 1 hour lunch break then a 2 hour ride to put your new skills to use out on the trails.  Both groups are led by experienced female PMBIA certified instructors.
If you are in our beginner group, our instructor will get you started by focusing on the foundations of mountain biking, including body position and balance, braking, and cornering, and then build from there.  This is a great choice if you are looking to transition from gravel trails into more cross country riding with climbing and descending.
Our Novice Group will be aimed at riders who have experience riding on green or light blue trails.  We will work on building your skills and confidence to help you improve your riding and work on progression of your skills.  This is a great choice if you are looking to ride more challenging terrain, build your confidence, and get comfortable on a wider array of trail levels.
Our goal is to not only have you develop your skills on a mountain bike, but to help you develop confidence in your own abilities so that you can challenge yourself and push outside your comfort zone to see what you are truly capable of!
For female identifying riders 19+ looking to learn to mountain bike in a supportive environment
If providing your own bike, it must have front suspension, disk brakes, and be in good working order.
Clinic will run from 9:30 – 2:30 and meet at the Stewart Rd East parking lot.
Price:
$100/person (there is a 3 person minimum required to run this course)
If a bike rental is needed, we will provide 50% off rentals from Kelowna Bike Rentals
We have 1 seat in each group available for on a full scholarship – please contact us directly at info@elevationoutdoors.ca if you are interested or could use some support to help make this course possible for you.
Group Size:
3 person minimun, 6 person maximum
Covid-19 Protocols:
Limited group size to 6 plus instructors
No sharing of bikes or equipment
All bikes from Elevation Outdoors are cleaned/sanitized at the end of each session
Increased spacing beyond the 2 meter suggestion for both climbing and descending to reduce risk
Limiting trail difficulty to ensure all trails are within the skill level of participants
Zero tolerance policy for behaviour that puts other participants at risk
If a participant is sick or displaying signs/symptoms, they will be sent home as a precaution
All participants must complete a Covid-19 screening questionnaire and have your temperature checked at the start of the clinic
With over 10 years of experience delivering mountain bike programs here in Kelowna, Elevation Outdoors is one of the longest running learn to mountain bike programs in the Valley.
Proceeds from these camps help Elevation Outdoors cover the costs of scholarship seats in our Live to Ride program for youth that may not otherwise have an opportunity to mountain bike.
For more information call our team at 250-870-9094 or email info@elevationoutdoors.ca