Adult Clinics
Dates for our 2023 Adult Clinics are to be determined .  These programs help support our Core programs by allowing us to earn revenue that supports our scholarship programs we deliver year round. Email to let us know you're interested, and we will send you details as we add more clinics over the summer.

Elevation Outdoors x Big White Clinic
2023 dates are to be determined. If you are interested in our clinics, please email us at info@elevationoutdoors.ca
If you have never ridden, or are a beginner/novice rider and would like to improve your skills this camp is for you!  Over 3 sessions you will receive instruction from our PMBI certified instructors to get you rolling for the first time, or clean up your riding and get you feeling more confident on your bike.
We will ride the beautiful Knox Mountain trails you will develop your skills to handle the various terrain, from flowy single track to riding bumps and berms. Our instructors will get you started by focusing on the foundations of mountain biking, including body position and balance, braking, and cornering, and then build from there.
Our goal is to not only have you develop your skills on a mountain bike, but to help you develop confidence in your own abilities so that you can challenge yourself and push outside your comfort zone to see what you are truly capable of.
Beginner Group:  This group is well suited for riders with minimal mountain bike experience.  We introduce you to the fundamentals of mountain biking, work on your foundations, and help you find a new passion.  Resort riding is a great way to build your experience as you can really increase your mileage to build those skills!
Novice Group: This group is great for riders that are comfortable on Green/Blue trails but want to improve their skills.  Develop your skills on more technical terrain, improve your cornering, and improve your line selection.  The trail network at Big White has some amazing trails to help your progression, and the chair lift lets you get great mileage to practice your new skills!
Minimum group size needed to run the program: 3
Maximum in program: 5
Dates – 2023 dates TBD
Cost : TBD – price will include lesson and lift ticket at Big White.  If you need a rental from Big White click here to reserve before registering to ensure a bike in your size is available.
We will strive to build groups based on skill, but if you can organize a group of 4-5 friends of the same level it can help create a great atmosphere of learning and fun with your friends!
For riders 19+ looking to learn to mountain bike in a supportive environment.
For the Knox Mountain dates if you need a bike you get 50% off from Kelowna Bike Rentals at the base of Knox Mountain. Let us know in advance to arrange the discount.
If providing your own bike for the in town dates it must have front suspension, disk brakes, and be in good working order.
What is included?
Instruction from our PMBI certified instructors

Two 2 hour lessons at Knox Mountain

Lesson and lift tickets for Big White days with a 2 hour lesson from Big White instructors in the morning and guided riding/further instruction in the afternoon for a full day of fun and learning.

A positive environment to improve your skills in.

A whole lot of fun!
***If you are selecting to bring your own bike for the Big White day it must have full suspension and disc brakes as a minimum.  It will also need to pass a safety inspection by one of the Big White team before being used for the day.  By electing to provide your own bike you are also forgoing the full face helmet and armour rental that is included, if you would like to rent this it will be available for rental on site.***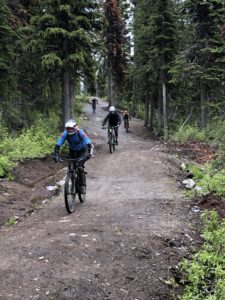 With over 10 years of experience delivering mountain bike programs here in Kelowna, Elevation Outdoors is one of the longest running learn to mountain bike programs in the Valley.
Proceeds from these camps help Elevation Outdoors cover the costs of scholarship seats in our Live to Ride program for youth that may not otherwise have an opportunity to mountain bike.
For more information call our team at 250-870-9094 or email info@elevationoutdoors.ca