Intro to Adventure Summer Camps!
2023 INTRO TO ADVENTURE CAMPS ARE NOW SOLD OUT! For info on MTB Specific camp spots still available, click here!
*All camps are for kids/youth aged 10+ only!*
COST:
Regular Camps: $ 375 for 1-week, day camp
Mountain Bike Specific Camps: $550 for 1-week, mountain bike focused day camp
DATES:
*Status of camp spots below may only be updated once daily, on week days. To check up to date availability, click on Register Now button and scroll to bottom of application  to see spots available.
Week 1 - July 10 - 14 (SOLD OUT)
Week 2 - July 17 - 21 (SOLD OUT)
Week 3 - July 24 - 28 (SOLD OUT)
Week 4 - July 31 - August 4: Girls Only Camp (SOLD OUT)
Week 5 - August 14 - 18: Mountain Bike Camp (for more info, click here) (2 spots left)
Week 6 - August 21 - 25 (SOLD OUT)
ACTIVITIES:
Mountain biking, hiking, rock climbing, adventure parks, and more! Each week will see an exciting blend of activities, with all lessons delivered by certified instructors.  If your child is looking to find their next passion this is a great chance for them to try all that the Okanagan offers in one action packed week!
Day 1 - ½ day mountain bike, ½ day hike

Day 2 - 1/2 day wilderness skills, 1/2 day indoor climbing

Day 3 - 1/2 day mountain bike, 1/2 day frisbee golf/games

Day 4 - Myra Canyon Adventure park for the day! 

Day 5 - ½ day mountain bike, ½ day hike
*Activities may alter due to weather and availability, Activities may also be adjusted due to Covid-19 concerns.  We will continue to monitor the best available information and make adjustments to our programming as needed.
Included in the registration fee is all transportation to and from each activity, access to mountain bike and helmets, all climbing equipment needed and instruction.
Camps are open to ages 10+ and are focused on a beginner and intermediate level for all activities included.
---
Campers are introduced to the sport of rock climbing at Beyond the Crux. Campers will learn how to belay, rope climb and boulder in an indoor environment. These skills can help develop a lifetime passion for the sport, as well as set campers up with the skills needed to enjoy outdoor climbing!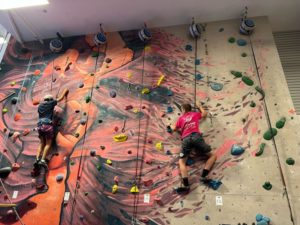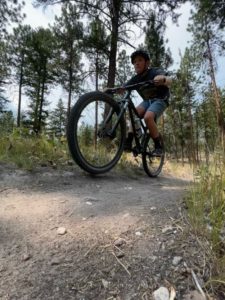 Campers will be introduced to the joys of mountain biking. In the morning we will introduce the campers to biking with a lesson from a certified PMBI instructor. This will include some skill development lessons to ensure everyone is comfortable on their bike and ready to tackle some off-road terrain. The half day sessions each Tuesday will be a skill assessment and development session. Wednesdays each week will see campers trying out their skills on a variety of trails in Kelowna.
Bikes and helmets are provided. If campers have their own bikes they must have disc brakes and front suspension as a minimum and pass a check by our team to ensure they are in working order before they can be used for the camps.
With so many great hikes here in the Okanagan how can we choose where to go?    Hike locations will change based on weather and the week so that campers who join us for more than 1 week will have an opportunity to experience a variety of that fantastic places we can hike.  Campers will learn about some native flora and fauna in the region and be introduced to the "Leave No Trace" ethics that will serve them in all their outdoor pursuits.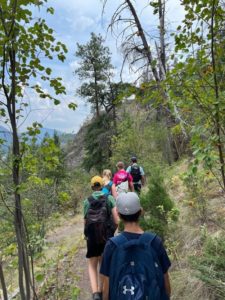 Check out the video below to see what our summer camp programs are helping support.
Elevation Outdoors Live to Ride program

Take a look at our latest video and enjoy a little throwback to when it was warm and sunny out. Hear what our Live to Ride program is all about and what motivates our volunteers to join in on the fun. 7 weeks of mountain biking all over the Okanagan, what an amazing way to spend the summer!Thanks to the many great organizations and businesses that help us create these opportunities for our communities youth. Bike Big White, Central Okanagan Foundation, United Way of the Central and South Okanagan / Similkameen, TELUS Thompson Okanagan Community Board, City of Kelowna, DAKINE, SilverStar Bike Park, Dollhouse Agency, Cyclepath Kelowna, Canadian Tire Jumpstart, and Giant BicyclesIf you are interested in getting involved our Learn to Shred program is coming up quick and we are still looking for some great people to come out and join our team. Snowboarding and giving back to your community at the same time...what could be better?A huge thank you to Raquel Rodrigues from #ragaproductions for not only giving her time to ride with our crew this summer, but for all her amazing work behind the scenes putting together this video and many others for us, we could not do it without your help. To all of our other volunteers we love you too!

Posted by Elevation Outdoors on Tuesday, November 27, 2018