Do your kids love to mountain bike?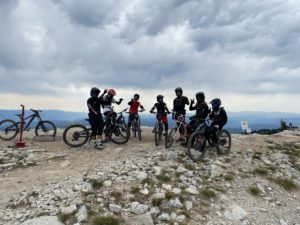 Youth Camp
August 14 – 18, 2023
Registration closed for 2023 – check back next spring!
For any camp related questions, email [email protected]
We offer two mountain bike focused camps for youth ages 12 – 18. These camps are focused on riders who are already comfortable on green and blue trails and are looking to build on existing skills. They are week-long, bike-focused camps that wrap up with a full day of resort riding at Big White on Friday.
Send an email to [email protected] if you have any questions about our Mountain Bike camps.
Price:
$550 + bike and armour rental as needed
Date:
– August 14 – 18, 2023 – this camp is no longer open for registration, check back next year for MTB camps for 2024!
*Each day will run from 9:00am – 4:00pm.
Tentative Schedule*:
Each day we will bike as much as is safely possible.  We will asses rider safety ongoing each day, and move to non-bike activities when we feel is appropriate.
Monday – Ride at Knox Mountain – skill assessment and evaluation.
Tuesday – Crawford – skill development and riding, afternoon will be other outdoor activities**.
Wednesday – Riding location will be determined based on riders skill level.
Thursday – Rest Day – Campers will spend the day at the Myra Canyon Adventure Park
Friday – Full day of riding at Big White. Transportation to and from Big White is included. If your child requires a rental bike from Big White we highly recommend confirming availability before registering for the camp.
*The schedule may change based on weather and availability at Big White.
**Based on our experience riding all day increases the risk of injury.  We will base the amount of riding on participants performance throughout the day, temperatures and air quality.
Skill Level
With a maximum of 6 spaces available in this camp we will do our best to accommodate skill differences, but may not be able to accept all applicants to provide a quality experience for as many as we can.
For riders 12 – 18, who can already comfortably ride green and blue trails, looking to improve their mountain bike skills in a supportive environment.
Use of one of our Giant Talon hardtail bikes is provided if needed for in town riding.
If providing your own bike for the in town dates it must have front suspension, disk brakes, and be in good working order.  **To use your own bike it will need to pass inspection from our staff on the first day.**
What is included?
Instruction from our PMBI certified instructors

Bike use from Elevation Outdoors fleet and helmet

Lesson and lift tickets for Big White days with a 2 hour lesson from Big White instructors in the morning and guided riding in the afternoon

Transportation to and from common meeting point to each days destination.

A positive environment to improve your skills in.

A whole lot of fun!
***If you are selecting to bring your own bike for the Big White day it must have full suspension and disc brakes as a minimum.  It will also need to pass a safety inspection by one of the Big White team before being used for the day.  By electing to provide your own bike you are also forgoing the full face helmet and armour rental that is included, if you would like to rent this it will be available for ~$42.00 on site.***
Covid-19 protocols(subject to change):
Limited group size
Mandatory mask covering nose and mouth anytime the group is in the Elevation bus
No sharing of bikes or equipment
Participants using bikes from Elevation Outdoors will only touch their bike
All bikes from Elevation Outdoors are cleaned/sanitized at the end of each session
Limiting trail difficulty to ensure all trails are within the skill level of participants
Zero tolerance policy for behaviour that puts other participants at risk
If a participant is sick or displaying signs/symptoms they will be sent home as a precaution
View Big White's safety plan here.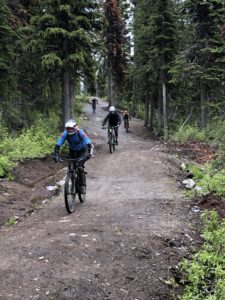 With over 10 years of experience delivering mountain bike programs here in Kelowna, Elevation Outdoors is one of the longest running learn to mountain bike programs in the Valley.
Proceeds from these camps help Elevation Outdoors cover the costs of scholarship seats in our Live to Ride program for youth that may not otherwise have an opportunity to mountain bike.
For more information call our team at 250-870-9094 or email [email protected]