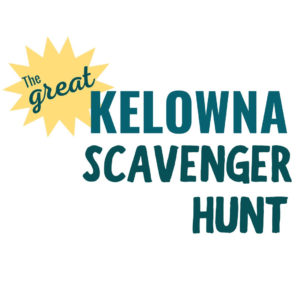 Mark your calendars, it's back on Saturday May 6! The Great Kelowna Scavenger Hunt presented by the Downtown Kelowna Association and hosted by Elevation Outdoors is a day long event to support some of Kelowna's many amazing local businesses while also raising funds for Elevation Outdoors and the Rotary Club of Kelowna Morningside in their efforts to make a positive impact in our community. Participants will receive clues to help them find the prizes that will be scattered all across the Downtown area. First group to find the locations wins the prize for that spot! Register today! 
If you would like to get involved with this amazing community event we have sponsor opportunities available, please email us for more information.
How It All Works
The Great Kelowna Scavenger Hunt impacts the community in a number of positive ways. With the way the event is set up, the impact is quickly felt beyond the positive impact on Elevation Outdoors. With 1/3 of all the money raised being invested back into our local business community through the purchase of GC for prizes there is a direct benefit to those businesses, in 2021, this event raised a total of $10,000 $2,000 of which was used to purchase gift cards from locally owned and operated businesses.
How will I find the prizes?
Sign up as a solo player, or grab your crew, your kids or your co-workers and register as a team.
On Saturday May 6th all teams that have checked in will receive an email with the first round of clues at 12:00 p.m.(delayed from the original 11:00am start time due to a parade downtown!) to help you locate the prize locations. As the day goes by additional clues will be released, making it a bit easier each time to find the remaining prizes.
Unravel the clues to find the locations. The first group to arrive will find a "Great Kelowna Scavenger Hunt" icon. Grab the icon, snap a photo of you and your team at the spot, text it to us right away to verify the time you were there and we will hook you up with the prize for that location.
Prizes will range from $25 – $200 in value, so all you have to do is find 1-2 locations before everyone else, and its like you get a fun day of supporting your community for free!
Where will the prizes be?
Location markers will be hidden, with 3 different clues to help you find them throughout the day. With the prize boundaries being Knox Mountain to the North, Gordon Dr to the East, and the Highway as Southern boundary it will allow participants to ditch their cars and get some exercise while looking for prizes!
Once you find the prize marker you will need to snap a photo of you/your group with it in the location and text it to our team. Once we receive the photo we will let you know what you have won.
As locations are confirmed to be found we will update the clue sheet to indicate what has been located so teams are not spending time hunting for what is no longer available. We will also have a location marker indicating you have found the right location even after the prize has been won.
A huge thank you to our sponsors who help make this event possible!
Presenting Sponsor

Community Builder